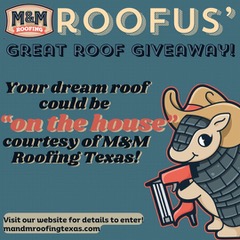 Roofus Giveaway
M and M Roofing is Partnering with ABC Supply to provide a new roof for a deserving homeowner in Angelina, Polk, or Nacogdoches County!
Enter the name, phone number, email, and address of the roof replacement
By submitting this application you are granting M &M Roofing permission to take pictures and feature your home on future marketing for the company and the giveaway. Before the official announcement of the winner, the home must undergo a "pre-installation" audit to ensure the home has all the necessary requirements to support a new roof.
The choice of the roof materials is up to M and M Roofing and their supplier and is based on availability. The value of the roof will be up to $10,000.